Je me souviens de longues heures passées dans les bois, la forêt et la nature. Il est étonnant de voir à quel point vous pouvez vous sentir bien après les heures de grand air, vous êtes rechargé. Vos joues sont roses et votre teint est à son meilleur. Parmi les petits animaux, j'ai toujours été fasciné par la petite coccinelle. elle est si fragile, belle et importante pour la nature. En français, nous appelons la coccinelle « La Bête à Bon Dieu » :)! Si vous avez un jardin et que vous travaillez sur vos fleurs et vos tomates, savez-vous que les coccinelles sont peut-être l'un des moyens les plus efficaces pour protéger votre précieux jardin des attaques de gourmands comme les pucerons qui aiment manger vos salades ou d'autres légumes en croissance.
I recall long hours in the woods, the forest and nature. It is amazing how you can feel so good after fresh air's hours, you are recharged. Your cheeks are pink and your glow is at his best. Among the small animals, I have always been so fascinated by the tiny ladybird; she is so fragile, beautiful and important for the nature. In french we call the ladybird « La Bête a Bon Dieu » the Godbug 🙂 ! Well if you get some garden and if you work on your flowers and tomatoes, do you know that ladybirds are maybe one of the most powerful way to protect your precious gardens from attacks of the gluttons such as aphids which really like to eat your salads and other growing vegetables.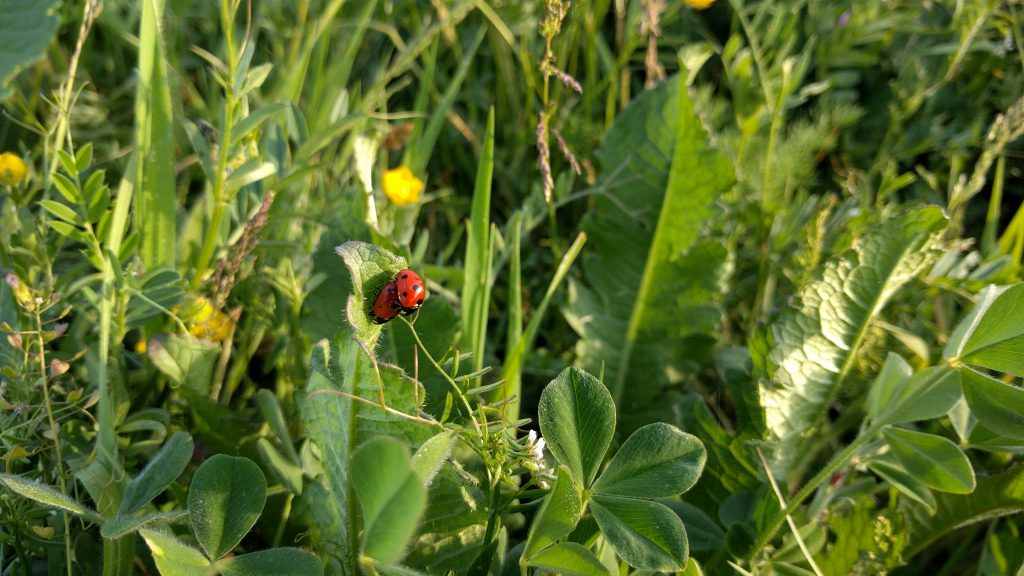 La larve de la coccinelle peut manger jusqu'à 80 pucerons par jour et à l'âge adulte de 80 à 100 par jour. Les coccinelles participent également à la pollinisation en visitant les fleurs pour se nourrir de pollen.
Une dernière histoire concernant l'âge de la coccinelle. Lorsque j'ai grandi en Normandie, un jeu consistait à compter les taches sombres sur le dos de la coccinelle pour déterminer son âge. La vérité est que ce n'est pas lié à son âge :)! Cependant, si vous le souhaitez, continuez à y croire :)! La raison des taches sombres sur la couleur rouge vif de la coccinelle est un signe pour avertir leurs prédateurs qu'ils ont un goût vraiment mauvais et qu'ils sont un peu toxiques.
Les coccinelles sont essentielles pour équilibrer notre écosystème, nous devons les protéger.
The larva of the ladybird can eat up to 80 aphids per day and as adult from 80 to 100 a day. Ladybirds also participate in pollinisation by visiting flowers to feed on pollen.
A last story is related to the age of the ladybird. When I grew up in Normandie a great game was to count the dark spots on the back of the ladybird to determine its age. The truth is, it is not related to its age 🙂 ! However if you wish please continue to believe it 🙂 ! The reason for the dark spots on the ladybird's bright red color back  is a sign to warn their predators that they taste really bad and that they are a little bit poisonous.
Ladybirds are key to balance our ecosystem, we have to protect them.
Alexandre R Rio.